For decades, the playground at Greenland Central School has been enjoyed by thousands of GCS students while serving as a community gathering place for young families throughout the Seacoast.
Many friends and many memories have been over the years, and now it is our turn to (literally) pave the way for the generations to come.  The GPO is soliciting your support to create a 15'x15' patio area in front of the playground. Once complete, a pergolas and picnic tables will be added thanks to a grant received from The Pattony Foundation.
Funds raised will be used to replace and expand the walkway that spans the playground area. You may individualize a brick for you, your family, a graduate and/or a favorite teacher. Consider honoring a loved one or making memoriam.
Ordering is open now through January 7. Bricks will be installed in April 2023. There's limited space so place your order as soon as possible — after 2023, orders will not be taken again until 2025+.
TWO SIZES ARE AVAILABLE:
1.  BRICK DETAILS: $100 – The bricks are 4"x 8"x 2 ¼." Click here to purchase.
2. BRICK TILE DETAILS: $150 – The brick tiles are 8"x 8″x½." Click here to purchase.
After purchasing, you'll be emailed a form to fill out to personalize your brick or tile.
If you have any questions, please contact:
Jenna Raizes | Volunteer, [email protected]
Sample Brick:  4"x 8"x 2 ¼."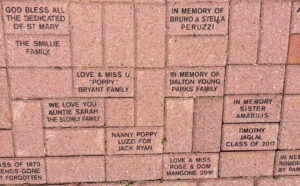 Click here to purchase.
Sample Tile: 8"x 8″x½."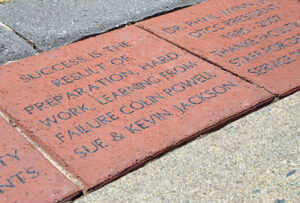 Click here to purchase.